Abyss Web Server Installation Guide
BACK
Lots of people ask me how to install Abyss, so I made this simple step by step guide to help you install abyss web server without asking me how to do it!
Step 1: Downloading
Before we start you need to download Abyss Web Server. You can get it from
http://www.aprelium.com/abyssws/download.php
Step 2: Installing
Start the installation file and follow the steps through until it installs leaving all options at their defaults.
Agree to the licensing terms.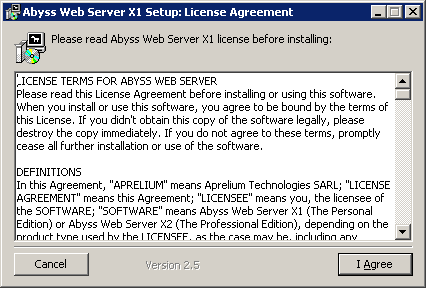 Make sure all the tick boxes are checked and then click Next.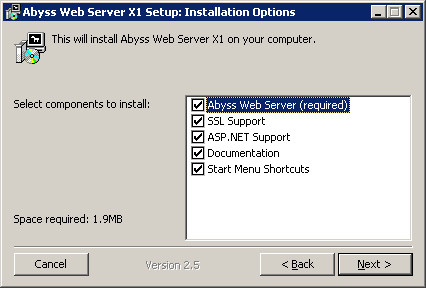 Choose an install location. The default of C:\Program Files\Abyss Web Server is recommended. Then click Install.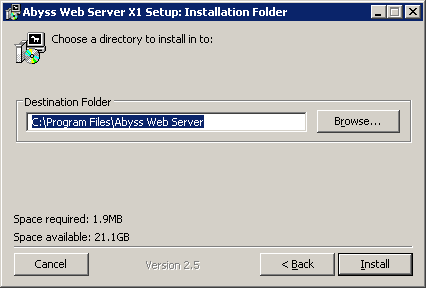 When Abyss has installed, you will be asked how Abyss should be started. Click "Install as a Windows Service" and then click OK.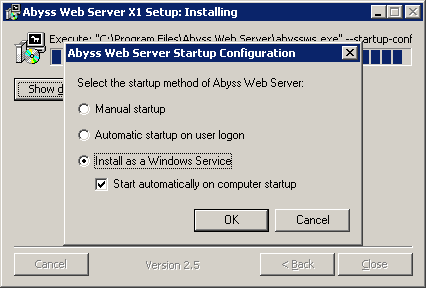 A box will tell you the service is installed.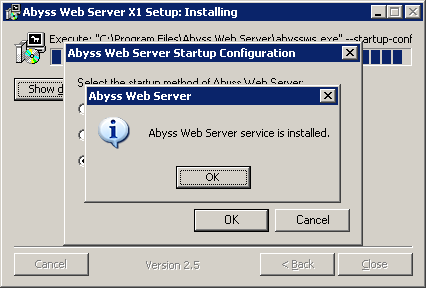 A box will ask you if you want to start Abyss now. Click Yes.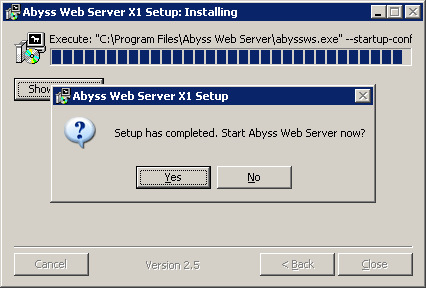 Another box will tell you a configuration file was created. Click OK.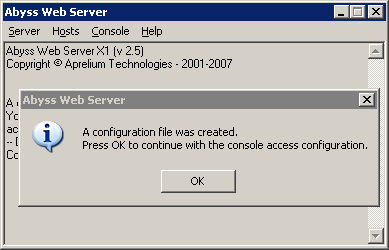 Your default browser will now open the URL http://127.0.0.1:9999 which is the Abyss Web Server console. Here you need to select your language and then click OK.

On the next screen enter a suitable Username and a suitable Password, the click OK.

After clicking OK, you will be asked to enter your Username and Password into the login box. Do this then click OK.

Abyss Web Server is now installed, and you are now presented with the console.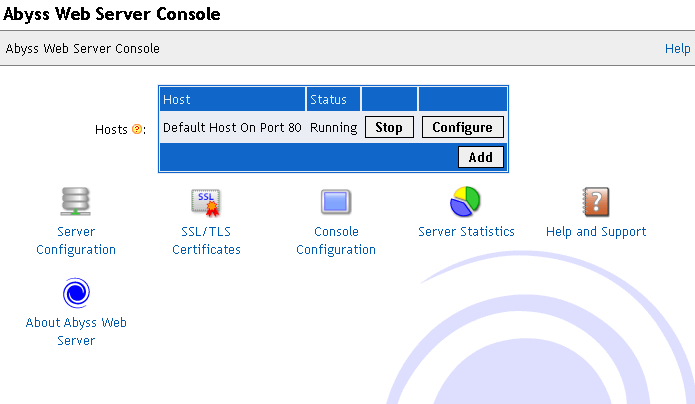 To test if Abyss Web Server is working on Port 80, the default port for serving websites, type http://127.0.0.1 into your browser and click Go.

If you see the screen above, then congratulations, Abyss Web Server is ready to start serving your website. All you need to do now is start adding your website and files into your htdocs folder, which by default, is located at C:\Program Files\Abyss Web Server\htdocs.
Finished
I hope this Abyss Web Server installation guide helped you out. Why not check out some other tutorials to extend the functions of Abyss Web Server? See below for related links.
Related Pages