Installing phpBB Forums
BACK
Requirements
Compatible versions of:
PHP
MySQL
phpMyAdmin
Step 1: Downloading
Before we start you need to download the phpBB forum package. You can get it from
http://www.phpbb.com/downloads.php
Step 2: Installing
Log into phpMyAdmin and create a database called "phpbb" as shown in the diagram below.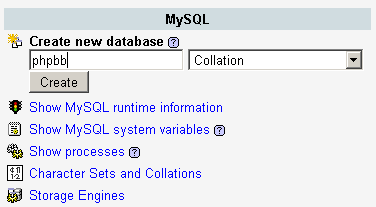 Now extract the contents of the phpbb zip file into your "htdocs" folder.
Go to your browser and go to the phpBB folder you just made in your htdocs folder. You will get the screen as shown below.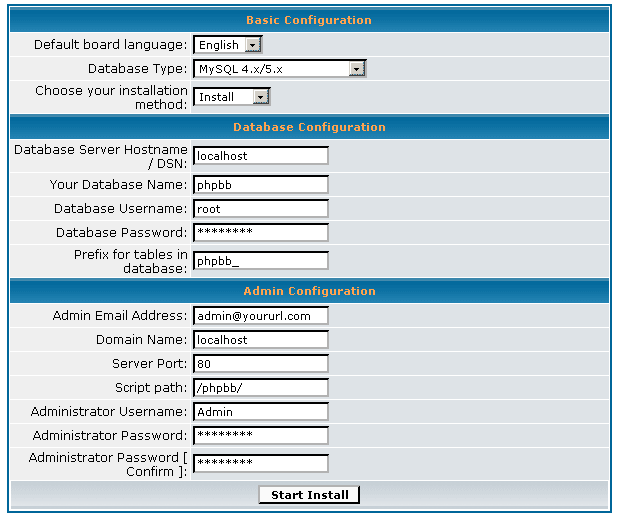 Enter the details it asks for into the forms.
Your Database Name: phpbb
Database Username: root
Database Password: Your MySQL password
Once you have entered your details, click "Start Install"
If the install was successful you will get the following screen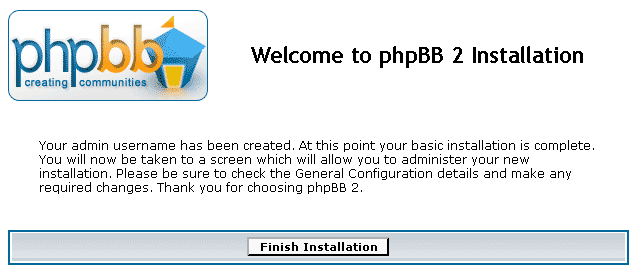 Click "Finish Installation". It will now ask you to delete the folders "contrib" and "install".
Go to your phpBB folder and delete these two folders. Now return to phpBB and refresh.
phpBB is now installed. Login and use the link at the bottom of the page to log into the admin panel.
Finished
Related Pages